Mike Evans, Donovan Smith Talk Empty Superdome
August 18th, 2020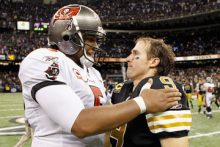 Will the Saints be able to pump eardrum-shattering crowd noise into their stadium on opening day, in order to screw up the Tampa Bay offense?
That's unclear, but Donovan Smith seems to think it will happen.
Joe asked Smith today to commend on the potential bonus of no fans in the Superdome and the volume there that seems to screw up an offense at least twice a game.
JoeBucsFan.com: As a left tackle, how strong is the advantage to not having fans and all that noise in the Superdome on opening day?

Donovan Smith: Man, I ain't even thought about that yet. You already know they're going to be pumping that extra crowd noise in there anyway. So it's going to sound just like it is if they have fans there, so at the end of the day we gotta go out there and do what we gotta do. I mean, it might be better because you might hear communication and stuff better for guys, you know, to eliminate some plays where you might have a But at the end of the day you know these teams are going to sit there and pump as much music and crowd noise they can to make the advantage for them.
To the best of Joe's knowledge, there will be crowd noise allowed in stadiums. (It's happening in baseball now.) But there certainly will be limits set by the NFL and the NFLPA, and that's the big question. Frankly, Joe highly doubts any dome stadium's current speaker system can duplicate the noise of 80,000 screaming fans without either sounding offensive or causing hearing damage.
Joe asked Mike Evans about no fans on opening day, as well.
"I kind of figured that's how it would be," Evans replied. "It's gonna be different. It's gonna take some getting used to, but at the end of the day we're going to play and we're gonna play hard whether there's fans or not."