Measuring The Talent Pool
August 3rd, 2020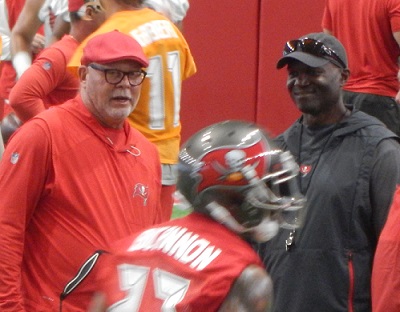 For so many years, the Bucs have been looking up at their NFC South opponents in various ways.
There are many layers.
Mike Evans is a superstar, for example, but he might be the third-best receiver in the NFC South. For the past decade, the Bucs had the third- or fourth-best quarterback in the division, which is a wonderful recipe for a couch seat in January.
Running game? Don't get Joe started.
Special teams? Pass the Tums.
Coaching? Three Super Bowl head coaches led Bucs rivals in the NFC South for a long time. Laugh at Dan Quinn all you want, but he's got a winning record in Atlanta that includes a winning record in the playoffs.
That's all hopefully old news, though a new analysis at NFL.com puts the Bucs in a similar light.
Former Pro Bowl running back Maurice Jones-Drew typed up his assessment of the 10 most talented rosters in the NFL.
Hooray! The Bucs ranked fourth just behind Baltimore. That's awesome! But the Saints ranked No. 1 and the Falcons checked in at No. 2 (yes, in the whole league.)
There's no shortage of talent in the NFC South … …. This is the scariest passing unit in the league right now, and to be frank, I don't know how defenses can stop an offense that has Brady, Gronk, O.J. Howard, Mike Evans and Chris Godwin. Drafting one of the top O-line prospects, Tristan Wirfs, to protect Brady, who'll be 43 on Aug. 3, only helps. The Bucs' defense features a linebacking crew full of stars — OLBs Jason Pierre-Paul and Shaq Barrett and ILBs Lavonte David and Devin White — but the secondary is an area of concern. The bottom line with Tampa: The team's talent pool is top-heavy — which is enough to put the Bucs above both Super Bowl LIV reps.
Jones-Drew outlined a classic Bucs situation — very talented but possibly not stacking up in a brutally tough division.
As Joe has talked about on the Ira Kaufman Podcast, the Bucs face the Falcons in Weeks 15 and 17. Hopefully, Atlanta running back Todd Gurley is completely burned out by then. Regardless, those games likely will determine the quality of this Bucs season.