Last Call
August 6th, 2020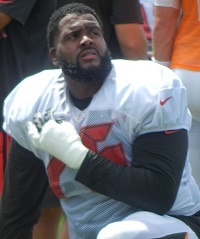 The deadline for NFL players to opt-out of the 2020 season is today at 4 p.m.
Only one Buccaneer publicly has stated very strong concerns about playing football during a pandemic: Donovan Smith.
The Bucs' left tackle reported to training camp, but that doesn't necessarily mean a thing. Smith has yet to declare word on his active social media accounts that he will play this season.
This will be a long day for Joe.
No Bucs fan should want any part of a 2020 season without Smith.
As for any other Buccaneer opting out of the season, nothing would shock Joe, though across the league less than 3 percent of players have bailed on the season. So there's no reason to think the Bucs will have any kind of parade out the door.