Keeping An Eye On Peyton Barber
August 6th, 2020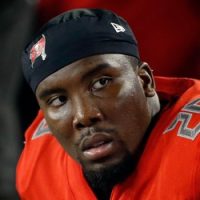 Joe apologizes for the headline that is sure to send some Bucs fans into convulsions.
However, everything is on the table during a pandemic-stained, Bucs-are-all-in season.
The unnamed Washington D.C. team is overflowing with running backs, including a finally healthy Bryce Love, one of the wild cards of the 2019 NFL Draft following a stellar career at Stanford. By all reports out of Washington, former Bucs RB Peyton Barber is battling for a roster spot and may be a long shot, despite his $600,000 signing bonus in March.
Joe brings up Barber because Bucco Bruce Arians brought him up yesterday in a positive way during his news conference. Also, Arians previously has said he has a very strong preference for players he knows — and who know his system. Barber, of course, scored 7 touchdowns for Arians last season.
Once upon a time, Barber was a good special teams player for the Bucs before he was taken out of that role to protect his health as the team's No. 1 running back. He finished the 2017 season with six tackles.
Arians also mentioned yesterday how special teams would be a big factor in his running backs depth.
LeSean McCoy won't play special teams, and neither will Ronald Jones. That leaves returning special teams captain Dare Ogunbowale, plus returner hopeful T.J. Logan and a couple of rookies who currently are in the COVID-19 protocol.
Joe could see Barber getting launched and catching the eye of Arians as a valuable depth piece in an unprecedented season.
Remember, the 2019 Bucs special teams ranked dead last in the annual, respected and data-driven special teams analysis by Rick Gosselin.