JPP Says He Has A Lot To Learn
August 17th, 2020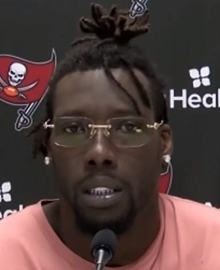 Jason Pierre-Paul broke his neck last season and had little time to learn the nuances of a 3-4 defense that was foreign to him after years in the Giants' celebrated four-man front and whatever you call what the Bucs played in 2018.
(Once upon a time in 2018, Joe was told by someone in the know that JPP did a lot of freelancing that season and it wasn't always appreciated by those around him, but it was tolerated because of his production through the first three-quarters of that season.)
Today, JPP talked to Joe and local media and shared that he's still learning the linebacker position under Todd Bowles.
Joe asked linebackers coach Larry Foote to elaborate on where JPP is deficient, and Foote gave a fun and detailed answer.
"Just the dropping, just the coverage, going to play a curl-flat, a hook-curl," Foote said.

"You know, [in] our defense we pass a lot of crosses off so he gotta learn how to do those things. Be an athlete. We know athletically he can do it, but he probably had a half a year of doing it. That's the most probably coaching I got to do with him, is just teaching him about coverage and underneath drops. And you know I always joke with him, like, 'One day you gotta learn this stuff. When you get your little-league team down in Miami, you gotta teach these guys these techniques.' But he loves it. You know those guys that's normally his whole career put his hand down [in the dirt], them guys get off when we ask them to do some DB-oriented drops."
Joe was glad JPP brought up how new he is in the Bucs defense. Joe often overlooks that. Certainly, JPP was far more concerned with healing a broken neck than getting up to speed with Xs and Os during his spring, summer and fall recovery.
When he returned against the Titans, the Bucs sort of let him rip as an edge rusher, and then he settled more into a well-rounded role as the season wore on.
JPP might just make a significant stride this season, if he can stay healthy. How cool would it be to see JPP pick off a pass. His last pick came in 2013.