"He's Just Kind Of An Overseer Anyway"
August 5th, 2020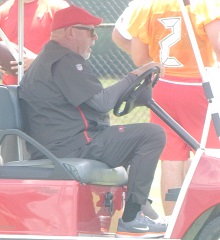 The loudest and most influential voice in NFL media, Mike Florio of ProFootballTalk.com, has taken a firm stance on Bruce Arians.
It can be perceived as good or bad.
Florio and his NBC Sports Network partner Chris Simms, the former Bucs quarterback, tackled the topic of head coaches missing games because of The Sickness. The question dove into what team is best situated to handle the loss of its head coach.
Florio said he had an easy No. 1 overall pick: the Buccaneers.
The primary reason is Tom Brady, Florio concluded, a nod to Brady's ability to settle the team, command respect and assist the coaching staff. Florio also acknowledged that Arians already has delegated a ton to assistant coaches and "he's just kind of an overseer anyway."
A Bucs fan could view this as, 'good for Arians' for being an effective CEO-style head coach with a quality staff and a veteran QB. But a Bucs fan also could wonder if the Bucs have the same, fiery hands-on coach that succeeded in Arizona from 2013 to 2015.
Regardless, Joe agrees that the Bucs are well positioned to handle the loss of a head coach. What Joe does wonder is how Arians might hold up if he was forced to take on a lot more work as a result of assistant coaches getting sick and missing time?