Heat Averse
August 12th, 2020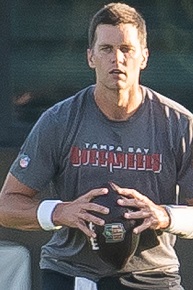 There's actually a meaningful official NFL NextGen Stat that ranks Drew Brees and Matt Ryan ahead of Tom Brady.
How could this be?
By now, NFL fans are well aware of NextGen stats. They are technology-driven data generated via sensors in on-field equipment — not the subjective hatchlings of gamblers, obsessed stat nerds or the professional con men that fleece tens of thousands of fantasy football players and television networks.
This week, the folks at NextGen Stats merged three stats — "passer rating under pressure, completion percentage above expected under pressure, and completion percent under pressure" — to determine who the best NFL quarterbacks were last season when they faced significant pressure.
Drew Brees is ranked third, and Matt Ryan took the No. 7 spot. Tom Brady didn't make the cut, neither did Saints backup and Bucs bust Jameis Winston.
Joe's first reaction was Brady is not on the list because he is smart enough to sense a pass rush and ditch the football before he's officially "under pressure." However, Joe can't go there logically because Drew Brees certainly is in the same league when it comes to those skills and hey, pressure is still part of the game, even if you know how to neutralize it at times.
Brady also is well known for hating pressure up the gut of the pocket, as is Brees.
The Bucs have significant talent along their offensive line, though Joe is skeptical of the coaching staff's ability to get the most out of them. But Joe is not skeptical of Brady's ability to get a message through to his line that they better protect him with everything they have if they want to keep their jobs.
As for the pressure stats, they just tell Joe that Brady, like most quarterbacks, will be average or worse if he's got angry dudes breathing on him. It won't lead to him throwing 30 picks, but it might lead to him feeling like a 43 year old, and the Bucs want no part of that.
.@NextGenStats' Top 10 QBs under pressure in 2019! https://t.co/EOKIKmaDw7 (powered by @awscloud) pic.twitter.com/9STmuw8AdR

— NFL (@NFL) August 11, 2020