"He Looks Like Tom Brady"
August 6th, 2020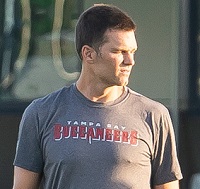 Michael Vick hopped on national television and simplified things for the nation when it comes to our beloved Buccaneers.
After watching Tom Brady throw at Bucs practice this week, and after listening to his former teammate and new Bucs running back LeSean "Shady" McCoy speak, Vick is convinced that Brady is physically what he was in his 30s and that Brady has moved on to Phase 2 with his teammates.
Phase 2 means Bucs players have looked at Brady and he got an "A+" on the eye test. So now they will hang on his every word because they believe he's still The Goat.
"It still looks the same as it did five or six years ago. I don't see any deterioration, you know, just in his throwing motion, in his footwork and his movement," Vick told FS1, noting "he looks like Tom Brady."
Vick explained in detail that for his Bucs teammates, Brady's appearance and look on the field needed to match his preparation. And it did.
Vick is confident Brady will thrive in Tampa because the immense talent around him will allow him to be average and win.
"Tom's job is going to be way easy and I think he knows that," said Vick, who thinks the Bucs are an 11- or 12-win team.