Gerald McCoy Counsels Tristan Wirfs
August 1st, 2020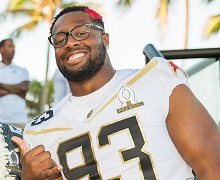 Gerald McCoy, one of the newest members of the Dallas Cowboys, is serving up unsolicited advice to Buccaneers rookie manbeast offensive tackle Tristan Wirfs.
It seems McCoy heard Wirfs telling media yesterday that he takes pride in being a nice guy on the field, winning snaps versus opponent sand then helping them up off the turf  –and then repeating that all game long. Wirfs said he's definitely not the trash-talking, angry-warrior type.
That must have struck a nerve with six-time Pro Bowler McCoy, who often was criticized during his Tampa days for being too nice on the field.
In fact, two Bucs defensive line coaches back in 2013 got on McCoy's ass about that, in addition to fans.
But McCoy never changed and never wanted to. Who could forget his in-game, Monday Night Football apology to Ben Roethlisberger after a roughing the passer penalty?
Yesterday, shortly after Wirfs concluded his news conference, McCoy fired off a direct Tweet to the rookie.
@TristanWirfs74 Keep being yourself. Dont let anybody change that regardless of what they say or do. Best thing you can do is be true to yourself. Be nice after the whistle and off the field and destroy everything moving in between the whistle!! Much success to you my brotha!! ✊🏾

— Gerald McCoy (@Geraldini93) July 31, 2020
Joe appreciates McCoy's point, but Joe doesn't like the rush to meddle in Bucs affairs. McCoy himself has stated that he felt neglected as a rookie by the Buccaneers because he didn't have a veteran around to guide him and counsel him. Well, Wirfs has veterans around him on the offensive line. Ali Marpet even somehow got in to One Buc Palace early to work out on the field with Wirfs.
Let the Bucs take care of the Bucs. Joe suspects McCoy didn't text Marpet or anyone one else at One Buc Palace for permission to get in Wirfs' head.
.@TristanWirfs74 doesn't have a switch 💡 pic.twitter.com/K9N6oCQVKe

— Tampa Bay Buccaneers (@Buccaneers) July 31, 2020