Embedded In Tampa
August 10th, 2020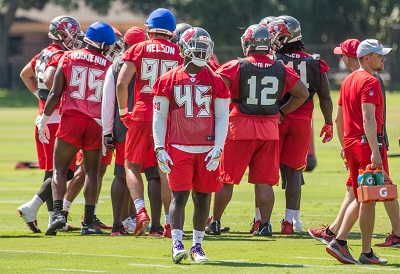 Yes, the Buccaneers are the darlings of the NFL world. Everyone seems interested.
So NFL Network has made an unprecedented commitment.
During the lost decade of Buccaneers football (2010-2019), once in a while the league-owned network would send a reporter to Tampa during training camp. Once a week would be a lot.
And usually, that same sporadic reporter from the league's house organ just happened to have graduated from Seminole High School and visited family across the bay, Jeff Darlington (now at BSPN).
Reporter James Palmer announced on Twitter that he'll be embedded in Tampa for the next month and attending practice daily.
Jiminy Christmas! That's the kind of stuff reserved for the Cowboys or Rams, or the Patriots and the Steelers. But the Bucs? Wow.
Joe likes the idea of the Bucs getting used to the enhanced spotlight during camp. Maybe that makes a shred of difference when all those prime time game roll around in the fall.
I'm in Tampa for the next month to cover the #Buccaneers for @nflnetwork . I'll be there everyday and I'm excited to get out and watch some football in person. At a safe distance of course. #backonabeat

— James Palmer (@JamesPalmerTV) August 11, 2020