D-Line Up, Run Effectiveness Down
August 27th, 2020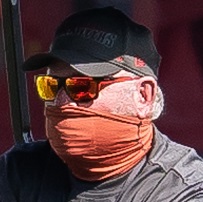 So what happens when the Bucs running game meets the teams' No. 1-ranked defense?
Of course, there are victories and defeats for both sides. But Joe specifically asked Bucco Bruce Arians yesterday what he liked on film of the trenches in the team's live goal-line sessions on Tuesday.
The head coach had a direct answer.
"I liked the defensive line's penetration, linebackers coming downhill," Arians said. "I was not very pleased with the running game of the offense down there, but that's tough sledding. You know, when they sell out, you can throw a pass if you want to – I wanted to see a little more toughness, so we only threw one pass. Yeah, I liked the defensive side."
Last season, in only three games did teams break 100 yards rushing against the Bucs — twice for New Orleans and once for Seattle.
Joe is not surprised to learn of the victories for the run defense. Joe will focus on that rather than ramble on about the recent history of the Bucs' run game.