"Bigger" Will Gholston
August 21st, 2020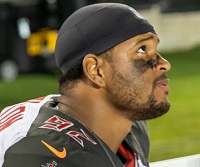 While Will Gholston has been a constant in the Bucs locker room since Act 2 of the New Schiano Order, one thing about him has changed often.
Gholston has filled various roles at various sizes. He came into the NFL at 280 pounds and has played below that weight and over 300 pounds. That latter was an issue during the 2017 season, Gholston said, after which he got back to his college weight.
Last year, Gholston moved to the starting defensive end position in the Bucs' new 3-4 defense and up went the weight again, but not as far as Gholston desired. So this offseason it was a focus, among other things, Gholston told Joe this morning.
"I took everything out of my exit meeting and I tried to implement into my workouts. I tried to put on enough weight to stay consistently above 300 pounds [this offseason]," Gholston said. "I tried to work on my lateral movement. I tried to work on my pass rush. That's really what I focused on, making my body right, pass rush and lateral movement."
Defensive line coach Kacy Rodgers served up a lot of love for Gholston this afternoon, and among fans, Gholston may be the most underappreciated cog in the Bucs' No. 1 run defense. At times last season he looked like the monster he was in 2016, the year that got him his fat second contract.
Fresh off his 29th birthday, the Bucs need another solid and durable season from Gholston. From where Joe sits, there's no one on the roster who can replace him.