Arians Talks Lively Kicking Competition In Camp
August 21st, 2020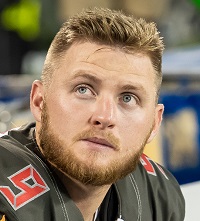 It's the AAF star, who has yet to kick in the NFL regular season, versus the Bucs' returning second-year kicker who ended last season on a sour note.
The games have begun, Bruce Arians explained today.
Undrafted out of the University of South Carolina in 2017, 25-year-old Fry was picked up in May after going 14-for-14 on kicks in the defunct AAF. He also spent preseason time with the Bears and Ravens.
Matt Gay, 26, is the returning Bucs kicker who had a very solid start to rookie season but faltered badly in the final game, missing field goal attempts of 49, 44 and 34 yards in an overtime loss.
Today a reporter asserted to Arians that Fry has looked great in training camp and Gay has been a step behind.
"Is there any level of concern there for you regarding Gay's performance?" Arains was asked.
"Yeah, I mean it's an ongoing competition. We'll add 'em up in the end" said the head coach. "They both of have hit the game-winners in the pressure situations today. So, it's a shame we don't have preseason games to throw'em out there and find out. But Elliott's kicking the ball extremely well."
Joe thinks this is a rather easy call for Arians.
With an expanded practice squad, do what you have to do to get Fry on it and let Gay start the season unless he has some sort of historic breakdown in practice.
As Arians said, there are no preseason games to get a better read on things.
Joe wouldn't want the Bucs to go make Fry their kicker in Week 1 because, well, there's no reason to think they're great evaluators of kicking prowess. So Joe would rather let Gay settle into his sophomore season and keep Fry warming up in the bullpen.
---
Derrick Brooks drops some very interesting Tom Brady thoughts near the end of this new TAMPA TWO video, presented by The Identity Tampa Bay.