Big Play, Bigger Hit (Video)
August 18th, 2020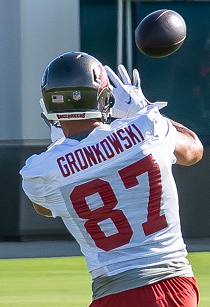 So Kevin Minter was beaten by Rob Gronkowski today for a big play down the right sideline at Bucs practice.
Minter let up (as he's supposed to) after the catch, but the play didn't end there.
In the Buccaneers.com "Play Of The Day" video below, you'll see second-year safety Mike Edwards fly over after Gronk takes five steps with the football and drill him in the left shoulder. Gronk was ready for the hit but still went flying out of bounds after the impact.
Fun stuff.
However, Joe wonders what kind of talking to Edwards got behind the scenes, considering the NFL Network news today that Gronk is on a body-preservation plan in training camp.
Regardless, Joe has had great fun watching this several times. Nice pass blocking by Dare Ogunbowale and a great throw by Tom Brady.