Spotlight On Ke'Shawn Vaughn
August 20th, 2020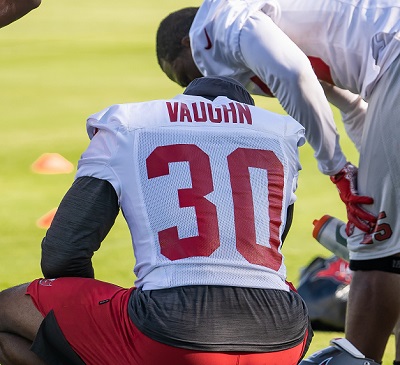 Running back/special teams ace T.J. Logan going down injured at practice today puts a little more spotlight on the Ke'Shawn Vaughn, the Bucs' third-round pick.
So Joe asked Bucco Bruce Arians for an update on Vaughn's progress, including on special teams.
"He's learning the ropes, (chuckles)," Arians said. "He hasn't played much special teams, but you know he's tough. He can run. His pass protections, he's learning a little bit about the size of these guys coming. He's got great vision as a runner. That part of it, there's no problem. It's the rest of the playing football at this level he's catching up to."
Well, it sounds like Vaughn won't be a special teams menace out of the gate, like many backup running backs are hoped to be. But Joe's mostly interested in his ability pound the rock, and it sounds like Arians still feels good about that.