"They Should Damn Well Not Do It"
July 3rd, 2020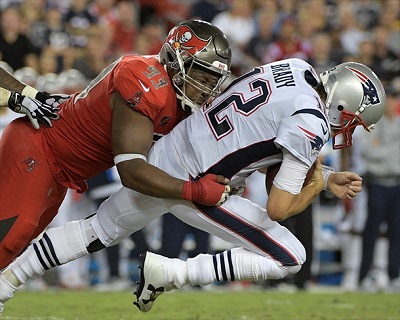 A few trivia questions:
Carson Palmer averaged how many hits per game in five years as a Bruce Arians quarterback?
And how many did Jameis Winston average last year, and how many has Tom Brady averaged per game since 2007?
The folks at BSPN TV are very focused on Brady and how he'll fare in Tampa. The Bristol brain trust has concluded that Brady can't get hit like a Bruce Arians quarterback to survive.
Palmer was hit an average of 4.1 times per game in Arizona (2013-2017). Jameis was drilled 6.7 times per game last year. Andrew Luck was pounded 7.4 times per game in his lone season with Arians, and Ben Roethlisberger averaged 4.9 shots per game in five years with Bucco Bruce.
Brady? He absorbed an average of 3.6 hits per game over the past 13 years.
"If Bruce Arians and Byron Leftwich allow Tom Brady to get hit because they calling plays down field and want him to hold the ball to throw it, that's a fireable offense," retired defensive lineman Marcus Spears bellowed to the nation. "And they should damn well not do it."
Joe's not worried at all about Arians and Leftwich in this area. Heck, Palmer wasn't mobile and his 4.1 hits per game represent only eight more hits per season than Brady.
No, Joe doesn't want Brady hit more than he's used to, but Brady will be able to manage that and he'll certainly have the freedom to change plays and he'll have major input into game plans. And perhaps most fun, Brady will get to chew out his offensive linemen, if they need it, like Jameis never seemed to do.