"There's A Steve Smith Quality To Him"
July 14th, 2020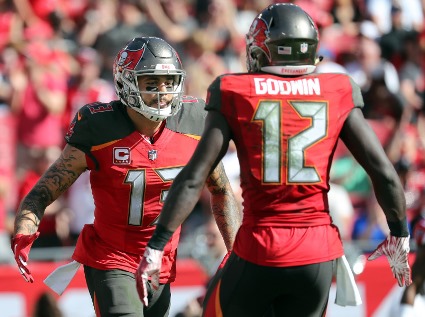 Behind a paywall at BSPN sits an intriguing review of Chris Godwin and Mike Evans.
Jeremy Fowler surveyed 50 coaches, scouts, executive types and players to identity the top-10 players at various positions.
The wide receivers group was rolled out with their rankings and select comments from the panelists.
Somewhat alarming was Julio Jones (No. 1) and Michael Thomas (No. 2) grabbing the top spots. Mike Evans checked in at No. 6 overall (he did garner at least one first-place vote and Godwin was No. 9 (He did get at least a fourth-place vote.)
One coach dropped a comparison that made Joe stop and think. "There's a Steve Smith quality to him," the coach said. "I'm not saying he's Smith, but he's a tough motherf—er."
Bucs fans know all about Smith; he was an absolute terror during most of his 13 seasons with Carolina. He and Rondé Barber had classic battles. And while Godwin is soft-spoken and Smith is brash, Joe can see similarities on the game film.
Godwin plays with a Smith-like attitude with the ball in his hands, especially last year. He is not conceding an inch. And Godwin was a punishing blocker in Bruce Arians' system, often at the point of attack.
Joe can only imagine what kind of edge Godwin will play with this year, a contract year for him with Tom Brady in his ear.
As for Evans, Fowler shared that "multiple NFL players called Evans 'totally underrated.'"