Recovered! Brate Sacks The Sickness
July 29th, 2020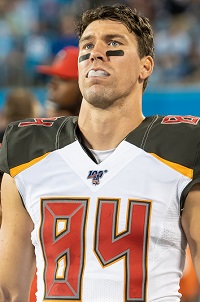 Cameron Brate, per his Instagram page, contracted COVID-19 and is fully recovered.
Now he's encouraging those who have fully recovered (assuming they had symptoms at all) and have been symptom-free for two weeks to donate plasma, via OneBlood.org.
Brate did not share when he was diagnosed or if he was actually sick. Of course, Brate was seen multiple times with several Bucs teammates at informal Tom Brady workouts at Berkeley Preparatory School in Tampa during the spring.
Who could be surprised? Joe's just glad Brate is healthy and good to go.