Judge Brady
July 1st, 2020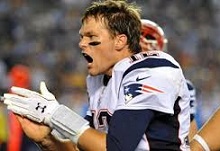 Joe remembers when Bucco Bruce Arians said Tom Brady would choose his No. 3 receiver and/or No. 4 and No. 5.
But what else will Brady pick?
Retired NFL quarterback Brady Quinn, who now is an analyst for CBS and SiriusXM NFL Radio, told his radio audience this week that Brady might have a heavy hand in O.J. Howard's future.
"Tom Brady would be a great judge of his ability," Quinn said, while speculating Howard will stick around for this season unless the Bucs get a sweet offer or Brady reaches a firm decision on him.
This has previously been a topic on the Ira Kaufman Podcast, where Joe has stated Brady likely will be who chooses the Bucs future of Howard and Cameron Brate, since there's no reason for Tampa Bay to keep both if Rob Gronkowski proves healthy and committed to his NFL career.
Joe wonders how an abbreviated offseason might increase Brady's influence on personnel.
What if Brady tells Arians in mid-August that he doesn't have a reliable pass-catching running back? Or suppose Brady gets all cryptic and and pops an Instagram post that reads, "Only thing we have to fear is the running game."
Joe certainly trusts Brady when it comes to offensive personnel for the 2020 Bucs, and Joe hopes Bucs officials do, as well.