"I Wouldn't Say There's A Big Challenge At All"
July 10th, 2020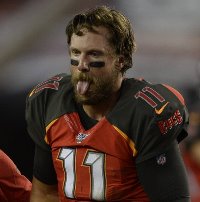 Blaine Gabbert was talking to JoeBucsFan.com this morning.
The man formerly known as the manbeast JoeBucsFan.com intern Zach Seifter chatted with the Bucs' No. 2 quarterback and shared the audio with Joe.
Among many topics, Gabbert discussed how the Bucs' quarterbacks got the job done this spring, despite not being together at spring practices.
"I know the way Coach Arians, our quarterbacks coach, Byron [Leftwich], the quarterbacks, we all use our time wisely and we got a lot of good stuff done this summer," Gabbert said.
Nothing was standout, cool or innovative about Zoom meetings with coaches, Gabbert said, but he feels the quarterbacks maximized the time.
"Virtual meetings are virtual meetings," Gabbert said. "In person is always better; having face-to-face conversations is really the best way to go, just so you're not talking to a computer screen. But, you know, we made due. We made the best of the situation. I think we accomplished a lot and got a lot of good work done."
Gabbert landed on injured reserve after blowing out his shoulder last preseason, but that's a non-issue now. In fact, Gabbert said the time off has let the 30-year-old recapture his youth.
"Honestly, it's probably the best I've felt in 10 years," Gabbert said. "I took the last 9, 10 months to really get in great shape and get everything strong. Shoulder feels great. Arm feels great. I'm ready to hit the ground running."
One might think a backup quarterback especially would be yearning for preseason action to be ready for the regular season, but not Gabbert.
If the NFL cancels the preseason, it wouldn't set back his readiness. "I wouldn't say there's a big challenge at all," Gabbert said.