"I Still Got Plenty Of Years Left"
July 15th, 2020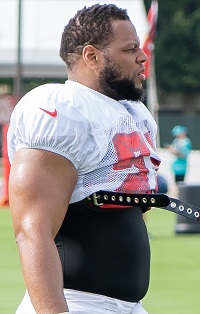 Ndamukong Suh is a huge fan of drinking whiskey, but he's no fan of early retirement.
"I still got plenty of years left," Suh said with confidence during a whiskey-drinking visit to The Fred Minnick Show, which is all about whiskey.
Suh detailed that he's a very regimented guy when it comes to training. "I'm typically up around 5, 6 in the morning starting my workouts," he said, before he gets to work on his various investments.
Ironically, Suh said he enjoys sacking Tom Brady, and he said they had a little fun with that when he signed his second contract with the Bucs back in March.
Suh, an actual whiskey connoisseur, is an investor in a small whiskey company and he said he only really drinks whiskey during football season while watching Monday Night Football, assuming he's not playing. While Suh acknowledged occasionally going out with teammates after Sunday games, he said he's all about hydrating after games to promote fast recovery.