Gauging The Pressure
July 16th, 2020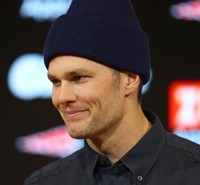 Tom Brady dealt with all kinds of pressure during his years as a Patriots legend, but very different types of pressure may come his way when he finally puts on a Buccaneers uniform.
Joe has zero doubts that Brady can handle it, but he's still human and it's impossible to know how a man will react in a new situation.
The Stay In Bed show, aka "Get Up" on ESPN, talked about new forms of pressure on Brady this morning.
Retired NFL backup QB Tim Hasselbeck chatted about a "massive amount of pressure" on Brady to produce with the Bucs and much of it is "probably self-induced." Hasselbeck brought up how Brady might feel internal and external heat if Cam Newton is winning early in New England and the talking heads start wondering how valuable Brady really was.
Former Pro Bowl safety Ryan Clark essentially thought Hasselbeck was off the mark.
He said anything Brady does is a gravy at this point and if he fails in Tampa, Clark will help lead the charge telling people that Brady had nothing to prove and was 43 years old and remains The Goat.
Clark said Brady knows he will be less than his best with the Bucs and is telling himself, "I can use these weapons to build me up to where I'm no longer as strong as I used to be."
Brady would have dealt with a ton of pressure if he moved to the Bucs at 33 years old, Clark maintained, but certainly not at 43.
Joe believes Brady is the ultimate competitor and will feel intense and unfamiliar pressure if the Bucs aren't cruising out of the gate. Losing is so foreign to Brady.
Let's hope Brady never has to answer the question he posed on national television back in 2014, "How do they deal with that?"