Chris Mortensen: I've Heard Arians Is Trying To Decide How Close He'll Be To Players
July 23rd, 2020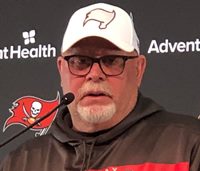 Joe's antennae sure stood tall hearing longtime NFL super insider Chris Mortensen speak yesterday to a national audience about Bruce Arians considering a more hands-off approach.
Mortensen wasn't on his home turf of ESPN; he joined SiriusXM NFL Radio and talked about issues teams are dealing with related to The Sickness, as well as NFL-union negotiations.
In the midst of that, Mortensen dropped this nugget without being asked about the Buccaneers head coach.
"Bruce Arians is still, last I heard, was trying to make a decision how active he was going to be in terms of proximity, physical proximity to his players," Mortensen said. "He's a high-risk guy. I'm a high-risk guy. You're in your sixties, you've had cancer or you have cancer still."
Will Arians have to be ready to step in as a playcaller if Byron Leftwich gets quarantined during the season? Mortensen talked about that possibility, which he believes means Arians must stay very connected.
It's unclear what exactly Mortensen heard about Arians or when he heard it, but it was clear from the interview that Mortensen is very much on top of things happening around the league.
Joe hopes the Bucs get clever and creative here. Team Glazer needs to open the vault to provide whatever Arians needs to stay safe and connected to players. If the guy needs a freakin' air conditioned space suit with a megaphone and a connection that will allow him to drink whiskey in there, then ownership better step up.
Whatever it takes.