Bruce Arians' Thought-Provoking Matt Gay Quote
July 29th, 2020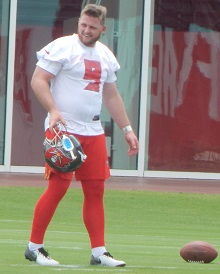 Matt Gay had a rough December, and it seems Bucco Bruce Arians knows why.
But Arians isn't sharing. Arians was asked about his 26-year-old, second-year kicker yesterday and Arians dropped this somewhat cryptic answer.
"Yeah, I think he learned a lot of things about life off the field in the NFL and how it affects on-field performance," Arians said of Gay.

"Up [through] November he was having a heck of a year and then he had a bad December. We'll find out if it was a rookie wall or if it's a problem. If it's a problem, we'll fix it."
So was something happening off the field in Gay's world that crept into his kicking? That's what Arians is implying.
Hey, life happens and kickers are human. But a lot of NFL players have serious personal issues and perform. (Joe could rattle off so many good ones that don't belong on these pages. Imagine being an NFL player and getting evicted from a Tampa apartment complex because you didn't pay rent, or imagine securing an in-season protective order so your ex-girlfriend won't attack you again.)
Joe hopes whatever Arians was referring to is in Gay's past. Joe would far prefer that Gay's December struggles were tied to a one-off situation rather than a long-term mentality or mechanics issue. The previous rookie kicking savior battled both.