A Bucs Pro Bowler Passes
July 16th, 2020
BY IRA KAUFMAN
By the end of the 1977 season, you could feel the Buccaneer defense coming on.
Lee Roy Selmon, the first Tampa Bay player inducted into Canton, was the obvious star, but a rookie out of Southern Cal made an immediate impact.
His name was David Lewis and John McKay would later call him the steal of the draft.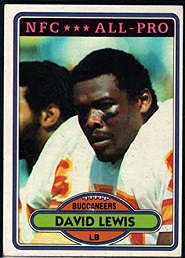 Lewis, who passed away this week at the age of 65, played a key role in a 3-4 defense that became very good very quickly. Lining up over the tight end at his left outside linebacker position, Lewis proved to be equally adept as a run stuffer and a drop back defender in coverage.
"I remember how good he was," Ron Wolf told me Wednesday from his home in Jupiter. "Lewis started right away and he helped us right from the jump. We had four pretty good linebackers — and he was the best of 'em."
Lewis played five years in Tampa before finishing out his career with the Chargers and Rams. He was a beloved coach at Tampa Catholic and a frequent visitor to Raymond James Stadium on game day, cheering on his Buccaneers.
That 1977 Buc defense shouldn't be overlooked, despite the team's 2-12 record. McKay's offense wasn't bad … it was terrible.
Historically terrible.
How about averaging 7.4 points per game? How about scoring seven offensive TDs in 14 games while being shut out six times?
But despite an embarrassing lack of production on the other side, the Bucs yielded an average of only 15.9 points per game, good for 12th in a 28-team league.
Calling It Straight
During their 0-26 start, the Bucs emerged as national jokes. They prompted ridicule on talk shows, including this jab from Johnny Carson: "Name two disasters that were accompanied by band music — the Titanic and the Tampa Bay Buccaneers."
Such was the backdrop when Tampa Bay players took the field Dec. 11 in New Orleans. They strutted out with a 33-14 victory on the strength of a defense that scored three times and forced seven turnovers.
"That '77 defense was really good and Tom Bass did a heck of a job with our linebackers," said Wolf, who was in charge of football operations during Tampa Bay's first two seasons. "A big part of that was Lee Roy Selmon, but don't forget about David Lewis. He was a big-time football player."
Back in the day, the Bucs were dubbed "USC East," for their penchant for drafting Trojans that McKay was familiar with. In 1977, Ricky Bell was the first overall pick and the Bucs kicked off Round 2 by grabbing Lewis, who joined Richard Wood, Dewey Selmon and Cecil Johnson in a formidable linebacker corps.
Lewis and McKay shared a tight bond, although the relationship was slightly frayed toward the end of the 1979 season.
Following Tampa Bay's third consecutive loss, setting up a must-win situation in Week 16 against the Chiefs, Lewis used the word "choke" to describe the team's performance. McKay lashed out at Lewis, who responded by leading the Bucs with eight stops in a 3-0 victory against Kansas City in a deluge at the soggy Sombrero.
Lewis earned a Pro Bowl berth a year later.
"There was nothing phony about the man," Lewis said. "With Coach McKay, the best players played. He told you what was on his mind, in an honest and straightforward manner. He took the brunt of criticism in the early days, but he had the last laugh. We came a lot further a lot faster than any team in NFL history."
Once Lewis arrived in 1977, he always considered Tampa home. He made many friends in the community and his presence was always welcome at One Buc Place. When he got together with former teammates on Alumni Day during training camp, the good times rolled.
He'll surely be missed, even as we remember him so fondly.
Enjoy Mike Alstott's June interview on the Ira Kaufman Podcast.


Bill Currie Ford
813-872-5555
5815 N. Dale Mabry Hwy.
Tampa, FL 33614
BillCurrieFord.com