Bruce Arians Says Tom Brady Isn't What He Used To Be
June 5th, 2020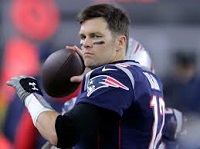 Tom Brady is known for having the proverbial chip on his shoulder, so maybe the latest commentary from Bucco Bruce Arians will fire Brady up even more to reverse the fortunes of the bumbling Bucs franchise.
Arians joined 100.9 FM in Alabama yesterday and was asked what he saw in his film review of Brady before signing him.
"Well, he's not the guy he was 15 years ago or 10 years ago, but he's still a great player," Arians said of Brady.

"I was very impressed with his deep-ball accuracy. He still gets it out of his hand fast. He's an extremely bright guy. He's going to put you in the right place. He's not gonna turn the ball over. He did a great job in their play-action game, which we love also. So he fits a lot of things we do. He's going to throw it to the open guy and that's what quarterbacks do."
Yes, Arians loves Brady. And Joe agrees Brady is still a great player.
But Joe suspects Brady might scowl hearing his new coach say he isn't what he used to be. If it's possible to light a greater fire under Brady, hopefully Arians just found a way.