Third-Best Skill Position Players — In The Division?
June 18th, 2020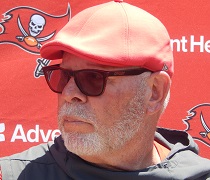 Former Pro Bowl guard David Diehl is a non-believer when it comes to the ecstasy many Bucs fans experience daily.
Diehl has been a very reasoned and seasoned analyst since he retired after the 2013 season, and he was asked to perform a simple task this week on SiriusXM NFL Radio: Rank NFC South teams when it comes to skill-position players, — typically categorized as pass catchers, running backs and quarterbacks.
Diehl thinks the Falcons are on the cusp of a major revival and he believes the combination of Matt Ryan, a seemingly healthy Todd Gurley, Julio Jones, Calvin Ridley and newly-acquired tight end Hayden Hurst are the top-dog group in the division, especially when combined with Ryan's synergy with Dirk Koetter.
Diehl then ranked the Saints at No. 2, with Drew Brees, Alvin Kamara, Taysom Hill, Michael Thomas and two-time Pro Bowler Emmanuel Sanders.
The Bucs are his third choice.
Are Jones and Ridley better than Mike Evans and Chris Godwin? One could argue that's a wash.
Hurst is a complete tight end but not special. However, Diehl sees him as better than O.J. Howard, and he views Rob Gronkowski as an unknown commodity after retiring. Of course, the Bucs don't have a special running back to counter Gurley.
It was a jarring take for Joe, who like most Bucs, would be quick to answer, "Bucs!" when asked what NFC South team has the most weapons.
It's clear that Diehl values running backs more than Bucs officials do. Joe's not going to play that broken record here.