The Simple Rules Of The Road
June 12th, 2020
BY IRA KAUFMAN
You can't build it through Zoom meetings or command it from a team podium. It has to grow naturally, through time, but it is an essential element of any winning franchise.
Call it synergy, unity or chemistry. Most of all, call it crucial.
Who says so? The most popular Buccaneer in team history, that's who.
"We loved each other," says Mike Alstott. "We were with each other all the time. We had a bond and our locker room was tight."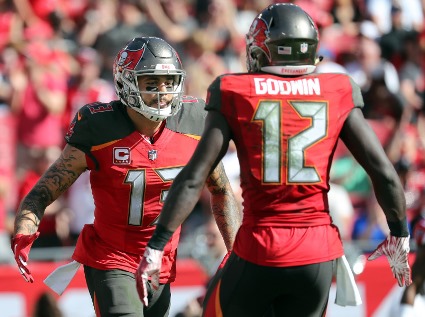 Jason Licht and Bruce Arians gush about the Tampa Bay locker room, but that closeness is about to be tested in a new way. It's almost impossible to believe, but a team weighed down by the NFC's longest playoff drought is now the hunted.
That's what happens when Tom Brady signs on the dotted line in Tampa, moving the betting lines significantly in Las Vegas. The depth of character in this locker room will be revealed in the fall as opponents take their best shots at the new NFL darlings.
Alstott believes the Bucs are up to the challenge.
"The community's excited and the players are excited," he says. "And they've got a true leader on the field."
Alstott has seen his share of free agents walk through the door at One Buc Place. Some flourished, some flopped. Some emerged as leaders, some sucked the air out of the room.
"I think it's underappreciated," Alstott says about building a winning culture. "We created that culture, we created that Buc Ball. When the other free agents came in, for their big payday or whatever, sometimes they didn't fit in that locker room.

"Two years later, they're gone."
If Brady leaves in two years, it will be on his own accord. It won't be for the same reasons Swaggy Baker and Anthony Collins departed the premises.
Collins, 29 when the Bucs released him in 2015, couldn't find another job. Baker, dumped in 2018, has never taken another NFL snap.
For Alstott, the rules of the road are simple.
"You're not gonna go out there and complain and bitch to the media," he says.

"That's how it was when we finally got over that hump. We had Hall of Fame players, but you have to come together — that chemistry, that bond, that unselfishness. That's probably the biggest thing, not being selfish, not wanting it all for yourself."
Alstott speaks from experience.
During the 2002 championship season, Alstott averaged only 9 carries per game, compared to 13 for Michael Pittman. And in the biggest game of his career, Alstott had 10 rushing attempts against the Raiders in the Super Bowl while Pittman carried 29 times.
That didn't stop Alstott from cheering for Pittman on every one of those 124 yards.
The 2020 Bucs need the same one-for-all mindset if they're serious about meeting expectations. If Mike Evans is targeted only three times in a particular game, so be it. If Ronald Jones finds rookie Ke'Shawn Vaughan taking away some of his carries, don't sulk … encourage the young man.
Better living through chemistry.
All of this teamwork chatter is easy to espouse and not so easy to achieve. Jealousy and resentment can build rather quickly in the NFL, where careers are short and memories are long.
After two decades of unrivaled success, Brady will brook no nonsense. He'll demand excellence and accept nothing less.
"It's all about team unity," Alstott says. "We're all here for one thing."
Let the chemistry lesson begin.
Enjoy Mike Alstott's interview on today's Ira Kaufman Podcast.


Bill Currie Ford
813-872-5555
5815 N. Dale Mabry Hwy.
Tampa, FL 33614
BillCurrieFord.com