"Situational Football Moments"
June 21st, 2020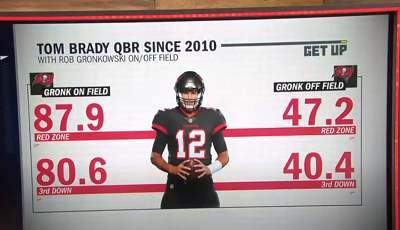 We all learned that Bucco Bruce Arians and Byron Leftwich disike Zoom meetings and other types of virtual communication with players.
They stay away from it and prefer ink, paper and in-person teaching.
Joe would have rather learned about how Bucs leadership is on the cutting edge of virus-fueled adjustments by NFL coaching staffs.
Perhaps they're hiding their innovation? Joe can hope but it seems unlikely.
Weeks ago, Joe asked Todd Bowles if any player — in any way — is standing out during online coaching sessions. Bowles laughed off the suggestion that he could even answer the question.
Last week, BSPN popped a stat to its TV audience that made Joe look twice, despite Joe believing that QBR is a garbage stat.
See the screenshot above. It illustrates just how much Tom Brady relied upon Rob Gronkowski over the past 10 years. It's striking.
Joe wonders whether Leftwich and Arians should at least be taking Gronk Management classes led by Tom Brady online.
Former Pro Bowl safety Ryan Clark talked during the BSPN segment about how he expects the Bucs to preserve Gronkowski this season, cutting his usual snaps total so he's there for all "situational football moments." Clark essentially said that means Brady would have — and would want — his security blanket with him when it matters most.
For all the Bucs accomplished last season offensively, their third-down conversion dropped considerably, down to 13th-ranked in the NFL.
In the prior three seasons, they were never worse than sixth-ranked on the money down. And they were 10th overall during Jameis Winston's rookie season in 2015.
That should be where Brady takes the Bucs up a notch. And Gronkowski should be a significant part of that, not only from what he catches but from what he opens up for others.
Joe will keep an eye on that third-down data. If it doesn't improve, Joe won't expect the Bucs to challenge for the NFC South title, only a Wild Card berth.