NFL Films Guru: Brady Slipped In Pocket Movement And Precision Accuracy
June 23rd, 2020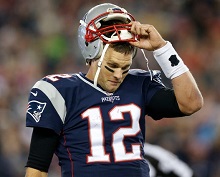 The 40-year NFL Films producer and film guru Greg Cosell, who many fans know from his work breaking down players on ESPN NFL Matchup, sees a drop in the play of new Bucs QB Tom Brady.
Cosell talked about it yesterday on WEEI radio in Boston.
Joe talked Bucs with Cosell at the 2020 NFL Scouting Combine and, as always, he was very level-headed, much like he was on radio yesterday. Also, Cosell is always quick to say he won't talk about a certain player if he hasn't spent enough time with the guy's film, which Joe always appreciates.
As for Brady, Cosell says the Bucs shouldn't expect the Brady many fans remember.
"I mean, I think he's still a very good player," he said. "I think there were two things that I thought were just not quite at the same level [in 2019] that we know of Tom Brady and his first ballot Hall of Fame career.

"I would say that his pocket movement was not quite as good as it has been throughout his career because he has been a master at being able to manipulate the pocket and navigate the pocket, find that quiet space to throw the ball with good balance, still seeing down field. He has been a master at that. And the other thing I would say is I thought that his ball placement wasn't quite as consistency precise. He was not inaccurate, but it wasn't quite as consistently precise as we've seen through pretty much all of his career; it wasn't exactly at that level.

"Those were two things I would say were just below the Hall of Fame level that has been his career."
Cosell went on to say that because Brady has always been such a grinder when it comes to building precision through repetition, this screwed up offseason will be a factor as he tries to figure out new receivers — no matter how talented they may be.