Knee Surgery For JPP
June 26th, 2020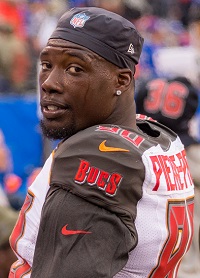 What crappy news this is.
The chatter on SiriusXM NFL Radio today was disturbing. Friend of Joe host Alex Marvez and former Bucs rockstar general manager Mark Dominik were mulling over news of Jason Pierre-Paul having knee surgery that will keep him out of action about a month.
TampaBay.com writer Rick Stroud explained that JPP had the surgery but "it's something that [the Bucs and JPP] thought about but didn't necessarily want him to do," adding JPP "had a little discomfort" and that forced everyone's hand.
Joe is disturbed for a one main reason. Back in 2018, JPP's play fell off in the final quarter of the season because of knee issues. He was a monster last year, but he also missed six games to start the season.
Can JPP ride his knee through the 2020 season and the playoffs?
Joe will pray to the football gods tonight and soak up plenty of Bromosa.