Ignoring The Falcons
June 26th, 2020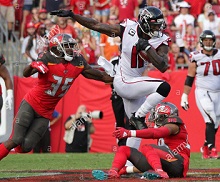 The hated rival Falcons look like they will at least tie an NFL record when they host the Seahawks on opening day.
Atlanta is expected to roll out 11 first-round draft picks as its starting-11 offense.
It's a mind-blowing stat, and it's one reason the Falcons should not be chalked up to being a garbage team by Bucs fans. Joe knows many Bucs fans who think, 'Falcons, pffft, they suck.'
Here's that list of Falcons offensive first-rounders, via CBS Sports.
QB: Matt Ryan (2008)
RB: Todd Gurley (2015)
WR: Julio Jones (2011)
WR: Calvin Ridley (2018)
WR: Laquon Treadwell (2016)
TE: Hayden Hurst (2018)
LT: Jake Matthews (2014)
LG: James Carpenter (2011)
C: Alex Mack (2009)
RG: Chris Lindstrom (2019)
RT: Kaleb McGary (2019)
Joe has no great fear of the Falcons, and there certainly are first-rounds busts in that group, such as newly-acquired Treadwell who flopped in Minnesota. But when the talent pool is that deep, surprisingly good things tend to happen, like the rise of former first-round pick Breshad Perriman last year in Tampa.
Joe brings this up today because former Bucs rockstar general manager Mark Dominik, who remains a Bucs fan, chatted on SiriusXM NFL Radio about how predicting Tampa Bay's record this season is so difficult because the Falcons are so underrated and the Saints are elite.
Joe is just hoping the Falcons are sitting at 1-3 and imploding after four games.
After getting the Seahawks at home, they go to Dallas, come home for Chicago and head to Green Bay on Monday Night Football.
If that doesn't virtually knock out the Falcons, their schedule gets significantly easier over the next five games before their bye week, including two against the Panthers, and home games against the Lions and Broncos.
Two of the Bucs' final three games are against Atlanta. With a little luck, Todd Gurley will be burned out by then and the entire Atlanta coaching staff will be thinking about their next destination. If not, those Bucs-Falcons games likely will be for one Wild Card berth.