Gauging The Value Of Brady's Workouts
June 28th, 2020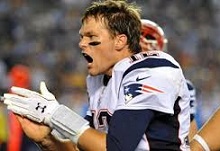 Does Tom Brady working out at a Tampa school with teammates really mean anything significant when it comes to the Bucs winning games in September or October?
Hall of Fame QB Kurt Warner and Bucs legend Mike Alstott have opinions.
Warner was on 98.7 FM in Arizona this week talking about how he never participated in private offseason workouts with teammates through his 12-year NFL career.
In Warner's mind, offseason was for family and he didn't even throw a football during that time. Warner said he would get his arm back in full swing after a few days of training camp and just wasn't a guy who felt he needed to throw year-round like many quarterbacks do.
But those sessions can be valuable when it comes to "getting to know players," Warner said, "but I don't think it's a cure-all that's going to necessarily carry over and make you a great football team."
Alstott joined the Ira Kaufman Podcast recently and referenced how he believes the Brady workouts likely are more productive than official spring practices for offensive players.
Why? Because the Bucs are getting used to being taught by Brady and there are no distractions from special teams meetings and responsibilities. Players can run through their offensive work, then go hang out and watch the film together over lunch and just get a little deeper into it together, Alstott said.
Joe certainly believes Brady's workouts are valuable, but how much remains to be seen. Joe would be more excited about the Brady workouts if the rookie running backs were there, but Joe has heard nothing of them being in attendance.