Bucs Also Had Additional Joint Practices Cancelled; Arians Unsure Of Tom Brady's August
June 4th, 2020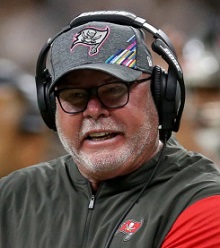 It was already learned that a new Sickness-driven NFL rule eliminating joint practices this season canceled Tampa Bay's scheduled sessions against the Jaguars, but Bruce Arians revealed more was lost today.
The Bucs also lost joint practices against the Titans, who will face the Bucs in preseason Game 3 at the Den of Depression.
During a Zoom chat with local media today, Joe asked Arians if that means Tom Brady will play more than expected in preseason.
Arians said he would have to see how the quality of the Bucs' training camp work looks, but "I doubt very seriously that Tom's going to get more reps."
The head coach also reiterated what he's said many times previously; scripted practices against real competition minus quarterback hitting is more valuable than preseason games. Joe expects that's a big part of why the Bucs scheduled joint sessions with two teams this year versus just one last year — another measure to protect Brady.
Brady has played plenty in preseason but not much the last two years. Joe suspects that if Brady feels he needs the work, he'll be in those games.
If no fans are allowed at the regular-season opener in New Orleans, then Joe thinks Brady plays a little less in preseason, since live work with silent counts will be less important.