"A Lot Of Routes, A Lot Of Running, A Lot Of Learning"
June 22nd, 2020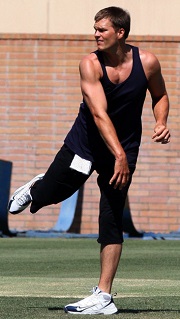 It's time to go inside those Tom Brady workouts with his fellow Buccaneers on local Tampa fields.
One regular attendee has been third-year Bucs running back Dare Ogunbowale.
"A lot of routes, a lot of running and a lot of learning" is how Ogunbowale described the sessions to The Zach Gelb Show last week.
Chemistry building is easy with Brady, he added, because the 42-year-old is running everything at a very serious level.
"The way he runs our workouts, it's like a practice," Ogunbowale said. "Instead of just telling us to run a dig [route] or something like that, he's telling us the full play call. He's doing his cadence as if we're in a game. He's doing adjustments, doing the hots and sights. With a guy like him, it's really easy to kind of be building chemistry and emulating that whole practice environment."
To make Bucs fans drool a bit more, Ogunbowale added that Rob Gronkowski looks extremely fast and "explosive," and that Brady likes to joke around and is a fun guy to be around while still being very serious.