"We Never Complained"
May 4th, 2020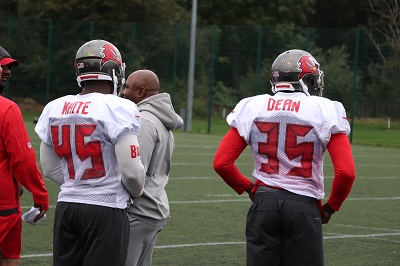 You can like and respect a teammate while at the same time want to scream at the guy for his performance.
It seems Buccaneers savior linebacker Devin White had those kinds of feelings for his former quarterback, the Saints' new $1 million backup.
Second-year man White told the Tampa Bay 55 podcast he was disappointed in his personal game and the performance of the Bucs last season. But White liked the way the defense gelled and kept its mouth shut in the face of failed offense.
"We was put in a lot of bad situations. You know, we never complained," White said of the Bucs defense. "We tried to make the best out of it. Like so when we did get a lot of turnovers, our offense turned the ball over and, you know, it overshadowed what we did a lot. Or teams were scoring on us but they were starting close in their own red zone already. … I feel like we played our role and we didn't complain, and I think that was the main thing that we did."
Yeah, it's hard to keep quiet when your quarterback gives the ball away like it's Halloween candy. Or maybe Bucs players were too quiet? It was only White's first season, but the Bucs had the highest percentage of drives end in a turnover last year and in 2018. And they were third-worst in that category during the 2017 season and fourth-worst in 2016.
Joe believes this was a revealing take from White.
On the positive side, White reflected back on his rookie season with a lot of love for Team Glazer and team programs that guide rookies to community service. White said he enjoys that most.
Time management represented a big change from his college days, White said, and he noted he put in a ton of work behind the scenes and added "a lot of people use their time differently."
White brought up his 2019 exit meeting with Bucco Bruce Arians and said he asked the head coach, "Is there any possible way that we can keep our defense together?" He said Arians told him he would try his best and White said he was surprised by how well the Bucs did in that department, noting the defense is a very unselfish group and grew well together.
Nowadays, White said he is up daily at 5:30 a.m. working out in a home gym with a personal trainer, and then it's all day riding and bathing his five horses himself and working the barn. Then he comes home and settles in with Netflix.
And White's not complaining about that, either.