Throwing To Backs Might Be More Josh McDaniels Than Tom Brady
May 21st, 2020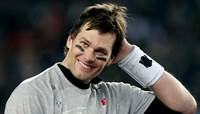 The greatest quarterback to have Tampa Bay on his resume is known, in part, for throwing lots of screen passes and quick, short throws to running backs who are more receivers than punishing runners.
But did Tom Brady really like operating that way? Former NFL QB Brady Quinn, renowned host of The Blitz on SiriusXM NFL Radio, is highly skeptical.
"That's also Josh McDaniels. That's more of the scheme that he kinds of looks for and wants; he calls it "displacement," when you put a running back or a tight end all the way on outside of your formation to force the defense to show their hand, man/zone, however they're going to match up with that guy," Quinn said yesterday.

So again, that might not be something that Bruce Arians does a ton of, or doesn't feel like he needs to do a ton of, because of the personnel they have. Another kind of thing to follow looking at the scheme and how they utilize their roster."
Quinn also said he looks at the Bucs' personnel and thinks defenses won't respect the running game early in the season and that might mean different looks for Brady than the ones he's used to in various personnel groupings.
Joe thinks so much of the 2020 offense will be about Brady's preferences within his arsenal of weapons, and those truly are unknown.
Joe would love to see Brady drool over his options and find a way to match his 2011 season of 5,235 yards, 39 touchdowns and 12 interceptions. That should be enough to get the Bucs in the playoffs, even if the secondary is as inconsistent as it was last season.