Three Years And Growing
May 12th, 2020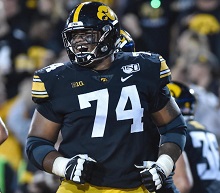 Joe's written about how nobody coaches offensive linemen like University of Iowa guru Kirk Ferentz, college head coach of Bucs first-round pick Tristan Wirfs.
He's churned out incredible tight ends, too.
A walk-on linebacker for Ferentz at Iowa, former Colts and Bucs tight end Dallas Clark, was moved to his position in college and later became a first-round draft pick. And Ferentz's list of stud tight ends rolled on from there.
Wirfs is special among the special, Ferentz told The Dan Patrick Show last week. Patrick asked Ferentz what he would tell Tom Brady about his new right tackle.
"I think he'll be really pleased," Ferentz said of Tom Brady when he studies the Bucs' first-round pick.

"You know Tristan's an amazing kid. He grew up about 25 miles from [the university] and I always joked, he and A.J. Epenesa were the kind of guys we never get. Boy, he came with a really good skill set. He's the first guy in 21 years to play tackle as a true freshman. I think he started 7 or 8 games. The best thing about Tristan right now, he's a tremendous person, first and foremost but also his upside — he's only played three years of college football. So the next couple of years, not that Tom Brady cares what Tristan's going to look like four years from now, but you know, the next couple of years I think he's just going to continue to blossom. He's a really good player and a tremendous young person."
That's among the exciting traits of 21-year-old Wirfs; he's polished but raw at the same time.
If he can be a punishing run blocker and a reasonable pass blocker from Day 1, Joe will be ecstatic. So should Brady.