"The Intensity Switch"
May 24th, 2020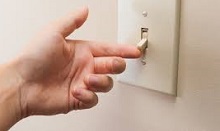 There are football-obsessed players and then there's Tom Brady.
A Buccaneer who played for a crazy intense and successful former Coach of the Year and Super Bowl-winner not named Bill Belicheat already sees what happens he talks football with his new quarterback.
Bucs center Ryan Jensen spent five years playing in Baltimore for John Harbaugh, who is as jacked up as they come in the coaching ranks. Harbaugh's teams actually go all out in preseason and maybe that's part of the reason he has just one losing season among his 12 leading the Ravens. Harbaugh also has a stunning 10-7 career record in the playoffs.
Joe has chatted football with Harbaugh at the NFL Owners Meetings and you can see how something changes in him when the subject turns to on-field play.
Jensen explained to Albert Breer of Sports Illustrated last week that he saw Brady change midstream during their first conversation.
"He flips a switch," Jensen said after his first workout with Brady.

"Even just in talking, you talk about life, where he should live in Tampa, this is the first conversation we had and, then all of the sudden, when we start talking about ball a little bit, you feel the intensity switch. I think that's something that you see, and you've seen obviously the last 20 years, he can flip that switch in intensity."
It's going to be fun to see what Brady's impact on the Bucs really is. Tampa Bay legend Rondé Barber says what he witnessed practicing with Brady back in 2012 lets him know life will be very different at One Buc Palace.
But the clock is ticking and the team is not together. Joe can only imagine how intense Brady's going to be at the first day of training camp knowing opening day is around the corner and there's a hell of a lot do.