"I Never Felt Like I Was Talking To A Stranger"
May 13th, 2020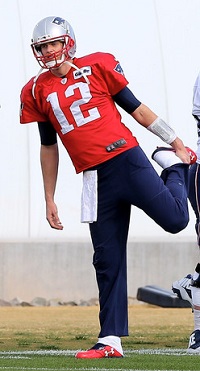 So how is Tom Brady interacting with his Tampa Bay coaches?
A Bucs coach has shed a little light.
Speaking to the pay-per-read site TheAthletic.com, QB coach Clyde Christensen shared that he and Brady were strangers to each other before Brady signed, but Christensen started working the phones upon Brady's arrival and got so much intelligence from Peyton Manning and others that he feels like his Brady relationship hit the ground without a bump.
… I talked to Reggie (Wayne), Austin (Collie), they spent some time around him," [Christensen said}. I had Danny Amendola in Miami. I was always curious about how he did things, how he worked, how he led. He's very similar to Peyton, especially as the years and his experience grew. How do you handle media, workouts, pitch counts, training, a rough receiver in the huddle? I always had a lot of discussions about those things with Peyton. But after talking to Peyton and some other people, I felt like I already knew him (Brady). In the past couple of weeks, I never felt like I was talking to a stranger.
Joe suspects Bucco Bruce Arians feels the same way, given his relationship with Manning and vast experience around elite quarterbacks.
Christensen expanded on the common theme that Bucs coaches, when team rules allow them to really dive into everything with players, can't wait to see how Brady molds the playbook.
"We're looking forward to seeing how he can influence the offense," Christensen said. "He'll make it better. That's what the great ones do. He'll have some great ideas so we're anxious to get his take on things."
There's more in TheAthletic.com piece, primarily focusing on Christensen and his career and learning about Brady.