Southern Command
May 14th, 2020
BY IRA KAUFMAN
Dan Quinn calls it QB South. You could also label it the golden oldie division.
Whatever term you prefer, the NFC South is deliciously stocked with a pair of first-ballot Hall of Fame quarterbacks and another who deserves more than a passing thought for Canton induction.
The only kid in the group is 27-year-old Teddy Bridgewater, now the lynchpin of Carolina's rebuilding program.
"Being in a division with two guys (Tom Brady, Matt Ryan) who won MVPs and two guys (Brady, Drew Brees) who won Super Bowls, that is a great feeling to be among those guys," Bridgewater says. "I just have to work hard to try to get up to those guys' level."
The star quality in this division is off the charts, although some of these quarterbacks may soon have trouble reading an eye chart.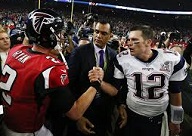 Brady, who turns 43 in August, is the senior man of this terrific trifecta. Brees is 41 and Ryan is 35. Together, they have 51 years of NFL experience, carving up defenses and stacking up wins.
Lots of wins.
With a stunning career record of 219-64, Brady has celebrated more victories than any quarterback in the league's 100-year history. Brees isn't too shabby at 163-111 while Ryan is 109-80 … nothing to be ashamed about.
To have three guys in the same division assaulting the NFL record book like this is quite a treat. Yes, we live in interesting times.
These prolific passers have combined for 31 Pro Bowl berths, and there's more. Brees ranks No. 3 with a career passer rating of 98.4.
Brady holds the No. 5 spot at 97.0 while Ryan's 94.6 mark is topped by only 10 quarterbacks all-time.
"This may be one of the best divisions in NFL history right now," says Saints cornerback Justin Hardee. "It's crazy. It's really loaded and it'll be exciting."
When the 2020 season commences, a lot of national eyes will focus on the NFC South. The Week 1 Brady-Brees matchup is already under scrutiny, in part because no one is quite sure how many more years will pass before these icons call it a day.
Just when Cameron Jordan, one of the NFL's elite defensive ends, waves goodbye and good riddance to Cam Newton, he now has to gear up for No. 12 twice this fall.
"Tom Brady blows on a conch shell and (Rob) Gronkowski magically comes out of retirement," Jordan says. "So now you have Cameron Brate, Gronkowski and O.J. Howard at tight end and you still have 2,000-yard receivers in Mike Evans and Chris Godwin."
That sounds about right.
Jordan comes off as a bit of a whiner. He should keep his yap shut because he gets the annual privilege of seeing a historic unit work its magic. The Saints have featured a Top 10 offense every year since Brees and Sean Payton joined forces in 2006.
Fourteen seasons — no exceptions. That's beyond crazy.
While Ryan's career doesn't stack up to Brady and Brees, he's in the process of compiling a potential Hall of Fame resume of his own. He already ranks in the Top 10 in several key career categories and Ryan figures to be taking snaps well after Brees and Brady head off to a broadcast booth.
And let's not forget about Jameis Winston, adding to the division's glamour position as a backup in New Orleans.
Brady, Brees, Ryan, Bridgewater and Winston — sounds like a prestigious law firm. Catch them this fall, you won't see their likes again.