Rookies Hear From Tom Brady, Mike Evans
May 1st, 2020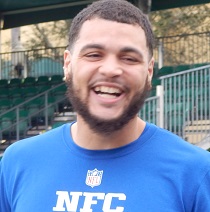 The Buccaneers' first four 2020 draft picks were talking last night via an official team video conference.
O.J. Howard might be wondering why these guys are so plugged in with their teammates.
First-round pick manbeast tackle Tristan Wirfs explained that he heard from Tom Brady via Instagram and ignored/didn't see the message for nearly 24 hours. Wirfs said it left him a bit star struck and his best friend took picture of the message. Ali Marpet also reached out to him, Wirfs said.
Brady also hit up rookie receiver Tyler Johnson "as soon as I got the call" from the Bucs, said the fifth-round pick.
This got rookie RB Ke'Shawn Vaughn (3rd round) why he was left out. However, Vaughn said he's heard plenty from Mike Evans, and Johnson added he's been chatting with Evans and Chris Godwin.
Safety Antoine Winfield, Jr., (2nd round) said he heard from someone but Joe couldn't figure out the name. Winfield added that he's fired up to cover Julio Jones, and Wirfs noted he wants to face his former Iowa teammate in practice, DE/LB Anthony Nelson, Tampa Bay's fourth-round pick in 2019.