Manning: Bumpy 2020 Road For Tom Brady
May 5th, 2020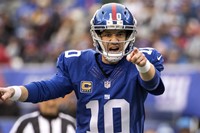 Former NFL players that aren't coughing up TV sound bites keep singing the same Bucs song and have been for weeks.
Guys who wore the uniform think Tom Brady trying to revolutionize the Tampa Bay culture and adapt to new surroundings quickly without spring practices represents a giant mountain for the new Bucs QB. Eli Manning was the latest to chime in.
"I think it's gonna be tough for [Brady], just the fact he can't be doing everything he wants to be doing with the team and getting ready,'' Manning said Monday on SiriusXM NFL Radio, via the New York Post. "Obviously they have some playmakers at receiver there, when you got talented receivers it makes it a little bit easier to get on the same page with 'em.

"It will be interesting how it all plays out and how quickly he can just adjust to a new organization and new players and new offense, all those new things, especially with the limited timing he's gonna have being with them.''
Joe is confident Brady will be a fine performer this season, but it's fair to wonder whether the Bucs will get the Brady impact they feel they bought on Day 1 of the regular season.
Bucs officials expected Brady to lift all aspects team, an even tougher task with so much of his April, May and June influence getting wiped out by The Sickness.
Manning is a very positive guy, so Joe finds his comments especially interesting. Manning only played for the Giants, but he did have three head coaches and several playcallers.