Jaws: Tom Brady Still Top-4
May 14th, 2020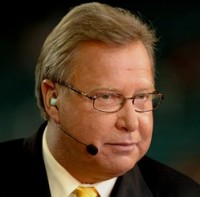 With multiple trips as a starting quarterback to the NFC title game and a long media career breaking down quarterback film, Ron "Jaws" Jaworski is not one to pull punches when evaluating QBs.
Speaking on SiriusXM NFL Radio today, Jaws made it clear he thinks the Bucs found a steal in 42-year-old, six-time Super Bowl champion Tom Brady.
Jaws was pressed to name his top quarterbacks in the game and was given various scenarios by which to judge. Ultimately, he put Brady in is top-4 quarterbacks a team would want if they're trying to go the distance in the 2020 season. Patrick Mahomes, Aaron Rodgers and Drew Brees were the others.
And based on answers to another question, Jaws gave Brady a slight edge over Brees.
"They haven't had really down seasons," he said of the QBs that will clash in Week 1 in New Orleans. Jaws went on to say so many strong quarterbacks, including himself, have had long careers with off years mixed in, but not those guys. And he doesn't think either is washed up.
August can't arrive soon enough. The Bucs have to have a winning season this year and get into the playoffs. This is the no excuses of no-excuses years.