Jameis Details The Help He Sought From Drew Brees While With The Bucs
May 2nd, 2020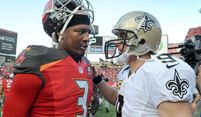 Interesting behind-the-curtain stuff from new Saints backup quarterback Jameis Winston.
Jameis spent five years as the Bucs' franchise quarterback under accomplished QB coaches. But Jameis explained to NFL Network this week that he reached out multiple times during his Tampa Bay days to Drew Brees for help with fine but basic points of the position.
"I don't think I texted him as much as I should have," Jameis said.

"I asked him in terms of studying the run game versus the pass game. I'm not going to tell you his answer on that. But I also asked him in terms of, you know, how to get more accurate on throws to the left, about his footwork and about his base. Just different quarterback nerdy stuff."
Joe can't knock Jameis for reaching out to a quarterback legend for help, and Jameis praised Brees for always being there for him. But it's still a odd that Jameis was reaching out on his own to Brees for those kinds of tips. It's unclear in what years Jameis was seeking help from Brees. Did Jameis not trust his coaches?
Hardcore Bucs fans might remember that Brees tutored former Bucs QB Josh Freeman. That was a setup from Freeman's offensive coordinator, Greg Olson, who coached Brees in college.