Chopping Wood
May 2nd, 2020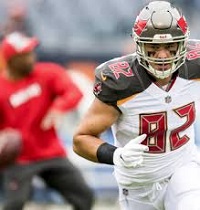 With Cameron Brate, O.J. Howard and Rob Gronkowski, the Bucs have three tight ends who play very little special teams.
Will those three guys be on the opening-day roster? Joe suspects Tom Brady will have a say in that after he starts throwing to Brate and Howard in the spring and summer.
But most teams have at least one core special teams player at tight end, a guy who is a fourth-down warrior. For Tampa Bay, that is fourth-year Buccaneer Antony Auclair. He played eight games last year before getting hurt, and he still played more special teams than Brate and Howard combined.
Auclair, who turns 27 this month, is a great story out of the Canadian college ranks. He told the Vancouver Courier newspaper recently that he's nearly 100 percent healthy and has embarked on a new training regimen back home in lockdown because of The Sickness.
It involves an ax.
"I'm a huge fan of Rocky IV when he trained in the snow and all that so I'm trying to replicate that," Auclair said. "I'm trying to split wood as much as I can and that's it.
"On sunny days it's pretty cool. But (Tuesday) it's snowing a lot, but I kind of like it. It makes us go outside a lot more. For now, we control what we can control, and we can't control the virus. For us, it's just to find ways."
Joe read about this weeks ago, but didn't write about it. The Buccaneers, however, just posted a video about various players at home and it shares some of their home workouts. Auclair is shown wielding his ax in a land foreign to most Floridians, which Joe thought was pretty cool. (It's at the 40-second mark of the video below.) Auclair also is an accomplished juggler, which he says is great for honing hand-eye coordination.
At 6-6 and about 270 pounds, Auclair is a solid blocking tight end and special teamer, but he might have more potential as a pass catcher than is believed. He'll play this season on a one-year contract for just over $1 million with $800,000 guaranteed.