"He Doesn't Need To"
May 13th, 2020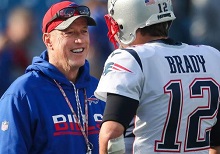 For one Hall of Fame quarterback, there is no dispute who is "The GOAT" of the NFL, and there's also no dispute that a QB getting new receivers needs time to make it click.
Retired Bills legend Jim Kelly knows something about playing with two elite receivers, like Tom Brady will have in Tampa. He was throwing to Hall of Famers Andre Reed and James Lofton during the Bills' run to greatness. But as hard as it is to believe, Lofton caught just 8 balls — eight! — from Kelly in 1989, Lofton's first season in Buffalo.
Things picked up from there and Buffalo started its four consecutive seasons in the Super Bowl the following year.
"When you have a new receiver coming in, you gotta work, you gotta understand what he's thinking on different things," Kelly told CBS Sports Radio this week, emphasizing that it takes time to understand what goes through a receivers head on different routes.
Kelly was adamant that the offseason shortened by The Sickness is a brutal blow when it comes to QB-receiver connection.
Unlike Bills QB Josh Allen, Brady still has such a quick release that mobility is irrelevant to his game. "He doesn't need to," Kelly said.
Brady is "The GOAT," Kelly added, as well as old. "I tried to talk him into retiring two, three years ago," he said, noting his desire to get Brady out of the AFC East.
While Bills fans can't stand Brady, Kelly said he's a big fan because Brady has been such a good friend and a huge supporter of his son's foundation.