Elite Deep Ball Thrower In 2019
May 27th, 2020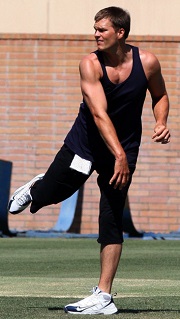 The NFL's unbiased tracking technology in balls and players' uniforms has spoken.
And it says Tom Brady was truly an elite deep-ball thrower last season while America's Quarterback, Saints backup Jameis Winston, was not.
Joe likes the NFL NextGen stats because they don't bring the human bias and error found among the popular stats outfits.
You can read the math metrics at NFL.com, but Joe will make it simpler. After the best deep ball throwers' data was compiled and ranked, only Dak Prescott, Russell Wilson and Patrick Mahomes, respectively, scored better than Brady last year. Nick Shook typed up the relevant stats and commentary on the tracked throws that traveled 20 yards or more down field.
No. 4 – Tom Brady

Comp pct: 38.9. Expected comp pct: 31.4. Difference: +7.5 percentage points.
TD-to-INT ratio: 7:2. Passer rating: 107.6.
Now this one flies in the face of doubters who claim Brady doesn't have it anymore. Brady was the league's fourth-best deep passer in 2019. He threw for seven touchdowns — against only two interceptions — on deep balls. He did so with Julian Edelman as his top target, and appeared to have done so out of necessity more than anything. His time to throw (3.24 seconds on average) was faster than just two of the quarterbacks left on this list (Ryan Fitzpatrick, Matt Ryan), his pressure rate was higher than anyone else on this list (40.7 percent) and his open-target percentage was third-lowest on this list behind only Prescott and Wilson. Brady's best deep-passing game came in a Week 1 obliteration of the Steelers, and two of his three best deep completions went to Phillip Dorsett, whom most everyone left in the abyss when complaining about Brady's targets. The other productive hookup went to Josh Gordon, who didn't last even half of a season with the Patriots.
So with more pressure in his face than most and a revolving cast of characters at receiver, Brady still posted the fourth-best expectation difference. Not bad for a 42-year-old.
The data should help explain why Brady is drooling at the thought of playing with the Bucs' deep pool of stud pass catchers. It's a huge upgrade for him — and he can still make the deep throws extremely well.
Finishing the top-10 list, in order, was Kyler Murray, Deshaun Watson, Kirk Cousins, Ryan Fitzpatrick, Matt Ryan and Baker Mayfield.