Bucsmania Reaches New Demographic
May 22nd, 2020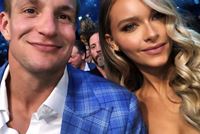 Bucs offseason coverage has reached peak buzz now.
This week, Bucs tight end Rob Gronkowski is making the rounds promoting his new CBS show "Game On!" in addition to his new team, the Bucs.
In what has to be the most coverage and run the Bucs have ever had, including after winning the Super Bowl, Gronk appeared on the "Ellen" show.
What's left for the Bucs and Gronk, "The View?" (That show has to be the ultimate yenta show on broadcast television.)
Maybe Gronk or Chris Godwin will make an appearance on Animal Planet or The Food Network, going to a local eatery featured on "Diners, Drive-Ins and Dives?"
Gronk was introduced (virtually) by host Ellen DeGeneres as "one of the greatest tight ends of all time" and she made a reference to an actor Joe has never heard of before, Channing Tatum.
(Joe has zero clue who this Tatum is and couldn't pick the guy out of a lineup but Joe is familiar with Tatum O'Neal.)
Gronk, speaking from Fort Myers — hey man, head to Big Storm Brewery's taproom in Cape Coral! — said he planned to take his girlfriend out on a party boat after the interview on a nearby lake.
This show must have been recorded a couple of weeks ago as Gronk kept referencing his mother and Mother's Day. In fact, Gronk said the "main reason" he wanted to play for the Bucs was that his mother lived in Fort Myers.
The fact Brady signed with the Bucs was just the "appetizer" for Gronk to come to Tampa, he said.
It's interesting to Joe that Gronk never mentioned the Dolphins as a possibility. As soon as Gronk said his mother could go to all the Bucs' home games, she videobombed the interview.
When DeGeneres asked why he came out of retirement, Gronk said he needed a break from the game.
"I felt that my body needed a rest and I wasn't sure if I was ever going to get back into football," Gronk said. "But my body healed up and I focused on my abilities to heal.

"I feel rejuvenated. My energy is back. I am super excited to get back on the field. I feel ready to go."
Man, if Gronk can be anywhere close to peak-Gronk, this is such a ridiculous steal for a fourth-round pick.
Bucs AC/DC-loving general manager Jason Licht has been thieving big-named players from other teams. Remember two years ago, Licht stole Jason Pierre-Paul from the Giants for a fourth-round pick as well.
Gronk on the "Ellen" show? You don't get much bigger non-football-audience splash than that.
Joe's good friend, Tampa Bay sports TV legend Rock Riley even makes an appearance early in the "Ellen" video below.
.@RobGronkowski on @TheEllenShow is the type of content we're here for 🙌

— Tampa Bay Buccaneers (@Buccaneers) May 22, 2020