Bucs Claim A Kicker Off Waivers
May 1st, 2020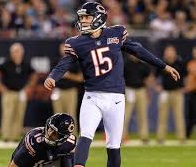 Let the games begin!
Kicking has been an adventure at One Buc Palace for several years.
Perhaps more like a circus act or a Howl-O-Scream room at Busch Gardens.
Second-year kicker Matt Gay kept the party going last season after a strong start. He finished by missing five of his final nine field goals.
Today the Bucs won their waiver claim of kicker Elliott Fry, per NFL Network. The Panthers signed him after last season already decided to move in.
Fry was an AAF star, going 14-for-14 with the defunct league last year, per ProFootballTalk.com. Undrafted out of the University of South Carolina in 2017, 25-year-old Fry also spent time with the Bears and Ravens but has yet to kick during the regular season.
Competition should always be a good thing. And given how the Bucs are in serious win-immediately mode, Joe suspects this will be a legitimate competition between Fry and Gay.